Hi everyone! I have been living in Arizona for about 2 months now, and just recently we've gotten our official orders for Japan. I cannot express through words exactly how excited I am. You know those GIFs you can send through text messages? Yeah, just look up "Happy Dance" and any of those will be an accurate depiction of me.
The past two months have been hard just because it's been a little like living in a hotel. Actually no, a more accurate comparison would be that it's like I've been floating. Not  being grounded anywhere is really hard. Every time I try and say how I feel, it just comes out sounding like an ungrateful brat. Which is something I try not to be. My thoughts usually go like this: I wish I went to a normal school, had my own room, all my clothes, shoes, friends, church, the list goes on.
On the other hand, I am so grateful for my family. Honestly, without them I would have gone insane a long time ago. Just kidding. But seriously, they have provided us with places to sleep, food to eat, and an opportunity to make memories. Which is something that really helped my family get through this tough time.
But now I feel as if I'm finally nearing the top of this mountain I've been climbing ever since we moved to Costa Rica. Not gonna lie, I am so ready to have a break. And yeah, I get it, it's life and there will be more mountains I have to climb. But for now, just let me focus on this mountain, and the fact that I totally overcame it! And it's not like I had to climb it alone. I am surrounded with amazing people that care about me and support me through every endeavor in my life.
January 22, that is the date when me and my family will fly 23 hours (oh my gosh.) to Okinawa, Japan. I'm not expecting it to be easy once we get there, I just know that this move will be the start of something new. (And yes, I did just end this with a High School Musical quote. You're welcome.)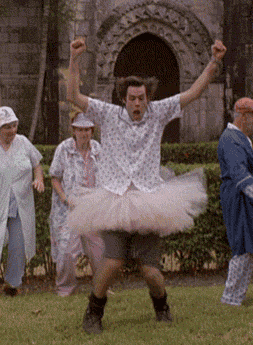 **Just a little something to help you visualize what my Happy Dance looks like! :)**
Source: https://giphy.com/gifs/dancing-dance-woo-ZtMkorgeyRu5q